Party Boat & Cruise Charters
Tampa Bay – Fun Charter Boating
Our Party Boat & Cruise Charters
Head out on the beautiful waterways with Claus Rodenbostel aboard a 26'3" center console Key West Family Sport with twin outboards. It is one of the largest private charter boats in the Tampa area.  The vessel has plenty of room to move about and has a full bathroom with a sink.  There is also a freshwater rinse station to rinse the salt off your skin after a dip at the sandbar and there is shaded seating if you should want a break from the sun. There is a large cooler provided with ice and water and extra space that will hold all your favorite beverages of choice for a full day on the water.
About Your Captain
Claus is an USCG certified Captain with more than 20 years of experience on the water and knows where to take you for a memorable day of fun in the sun! Claus is also fluent in Spanish, German, and English.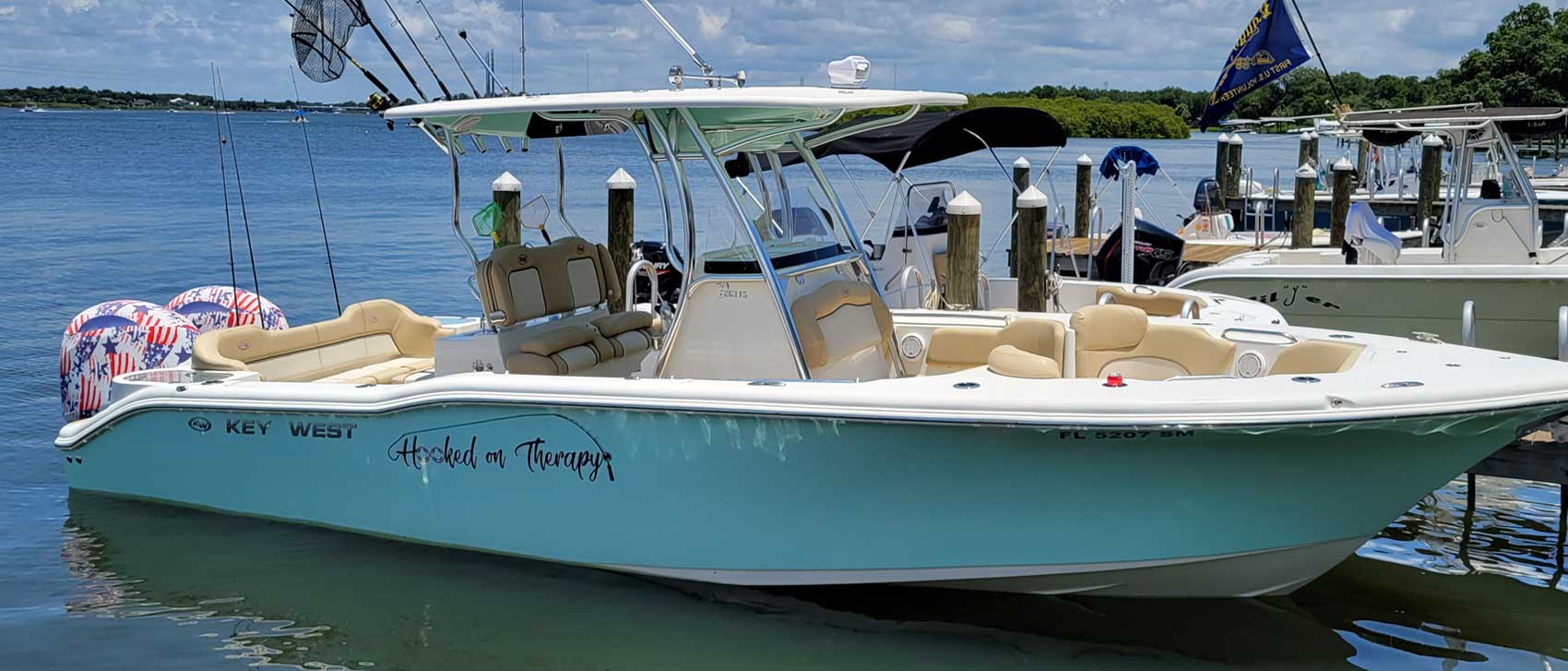 ALL fun, party and cruise charters get a FREE VIDEO and pics taken during your excursion and emailed to you afterward!
*Our Captains are certified in Adult and Pediatric First Aid/CPR/AED.
Party, Sunset and Cruise Charter Options
Let us take you to the local sandbars & tiki bars. Sunsets & seashells. We can either cruise slow with cocktails or zip with the waves. You have your choice choose your type of voyage or let us make one that you will never forget.
There is an amazing Bluetooth stereo that can blast your favorite playlist or play soothing tunes in the background.
You are welcome to bring adult beverages.
Our boat can hold up to 12 persons, our licensing only permits 6 passengers aboard.  Should you have a larger party, just let us know so we can come up with some options.
Party Boat & Cruise Charter Options
Half OR Full Day Tampa Boat Tours
Sightseeing Cruise Tampa Bay
Island Boat Cruise Charter
Special Event Boat Charters & Add Ons
ALL fun, party and cruise charters get a FREE VIDEO and pics taken during your excursion and emailed to you afterward!
Party Boat Charter Tampa
4 hours
Enjoy a fun time partying on our amazing party boat while cruising on Tampa Bay and hanging out by Beer Can Island. You'll enjoy bumping music and incredible sights, all while hanging out with your friends. Bring your favorite adult beverages to make your party boat cruise even better. Are you ready for some fun?
$650 (per boat and includes up to 6 passengers)
Sunset Cruise Tampa Bay
2 hours
Enjoy a beautiful sunset while cruising on the Gulf of Mexico on your private boat charter. We will head out about an hour before sunset. Provided will be a cooler full of ice and ice-cold water. You are more than welcome to bring your favorite adult beverages of choice (Champagne, etc.) and or snacks.
$350 (per boat and includes up to 6 passengers)
Half/Full Day Tampa Boat Tours
Half-day (4 hours) Full-day (8 hours)
Our Tampa boat charter tours are private and are custom created and individualized based on your adventure. We offer several options for you to choose from – just let us know what you are interested in the most. If you are interested in combining several of our options, such as an enjoyable boat tour of the Tampa Riverwalk or a trip to the famous Beer Can Island, then the full-day boat charter is for you. We try our best to make each boat tour adventure a memorable one.
Our half-day and full-day charters include fuel, captain, light snacks, ice-cold water, plenty of dry storage and pick up and drop off at one of several dock locations. We also have a liy pad, noodles and toys to make the day on the water a memorable one
Half day boat charter: $600 per boat (includes up to 6 passengers)
Full day boat charter: $850 per boat (includes up to 6 passengers)
Sightseeing Cruise Tampa Bay
4 hours
Enjoy beautiful Tampa Bay while cruising along on your private boat charter. We will show you some of the best sights that you can see from the waterfront: including:
Tampa Riverwalk
Jose Gasparilla (the Gasparilla Pirate Ship)
Davis Island
You may also see some of the area's wildlife as well as some dolphins, so get your cameras ready. Since this is your private boat charter, we can always stop somewhere you like.
This tour is 4 hours long which allows plenty of time to cruise along the Tampa Riverwalk and enjoy many sights and even a stop at a local Tiki Bar.
Island Boat Cruise Charter
Beer Can Island / Pine Key
Beer Can Island is private island that's is located 2.5 miles off Apollo Beach and offers a full service tiki bar, a gorgeous beach, beach volleyball, restroom facilities, corn hole games, and a six story inflatable waterside.
Egmont Key / Fort Desoto
Egmont Key is located south of Ft. DeSoto Beach, which is at the mouth of Tampa Bay. It is accessible only by private boat and offers great historic sites, which includes a working lighthouse that has stood since 1858. It also has remains from the Spanish-American war. The water surrounding Egmont Key is some of the clearest on Florida's West Coast. Egmont Key also offers walking trails, snorkeling, swimming, and wildlife. place to relax and collect shells along isolated, unspoiled beaches.
Passage Key National Wildlife Refuge
Passage Key is a beautiful small island located in the mouth of Tampa Bay with crystal clear water. It is a bird sanctuary with a variety of birds to see nesting. Along the shore where the surf breaks, you can find seashells and sand dollars. One can make a relaxing half mile walk around the island as well. Visitors will often find dolphins, manatees, and or manta rays off Passage Key's white-sand beaches.
Add On Options & Specials:
Add Ons
BBQ Grill (Burgers, hot dogs, chicken)
Charcuterie Boards
Chips and Fresh Salsa
In appreciation for their service to our country and communities, we extend a 10% discount for all Active Military and first responders
Special Event Boat Charters
We all have special occasions to celebrate. We offer special add-on packages for all sunset charters. The packages include free digital pictures and videos so you can always remember these great times. If you are wanting to charter with us to celebrate Birthdays, Engagement, a Wedding, a Anniversary, Marriage proposals, a romantic Valentine's Day, Date night (Day or Sunset, Bachelor/Bachelorette parties or celebrating with friends from out of town, etc., we have a special package for you.
We had such an amazing time. The boat is beautiful, the scenery was stunning and our captain made our party cruise so much fun. They knew where to take us, what to see, and what would be the most fun for what we were looking for. We highly recommend Hot Boat Charters and are looking forward to using them again!
Fun On The Water
In Tampa Bay